Montenegro is proud — and rightfully — of its cuisine. The Montenegrins creatively reinvented Italian, Turkish and Hungarian recipes using their own unique ingredients.
Junetina ispod sača, ćevapčići , pljeskavica, pršut, čorba are the top five traditional dishes to try in Montenegro. But all of them are meat dishes. Are there any options for vegetarians in Montenegro?
Vegetarianism as a lifestyle and ideology is becoming increasingly popular in the world. Let's see if we can find meatless dishes in traditional Montenegrin cuisine or in contemporary restaurants.
1
Salads and Appetizers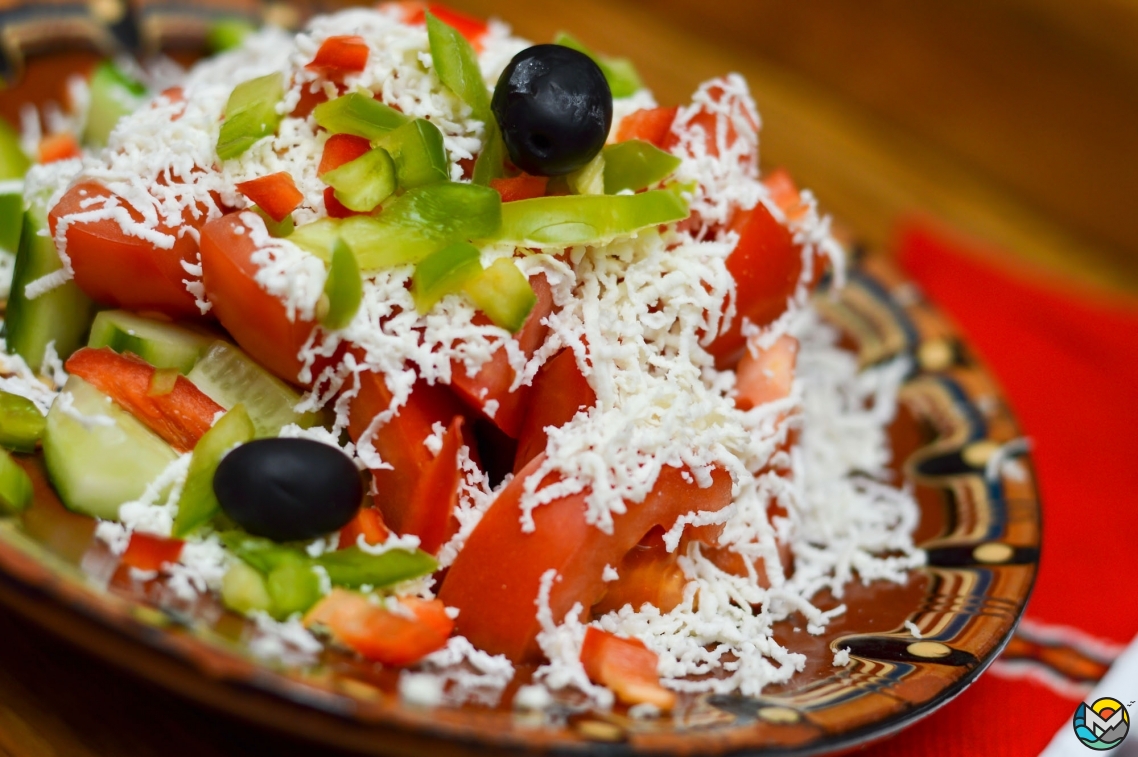 Šopska salata, very popular in the Balkans, came to Montenegro from Bulgaria (residents of the western part of this country were called Šops). It is a simple mix of tomatoes, cucumbers, bell peppers and olives topped with cheese and olive oil. The same dish without cheese and olives is called Serbian salad (Srpska salata). With small variations, it can be found as the Montenegrin salad (Crnogorska salata).
Traditional winter dish is Mešana salata orTuršija. In this case, the same vegetables — bell peppers, cucumbers, tomatoes — are pickled. Turšija is usually served as an appetizer before the main course.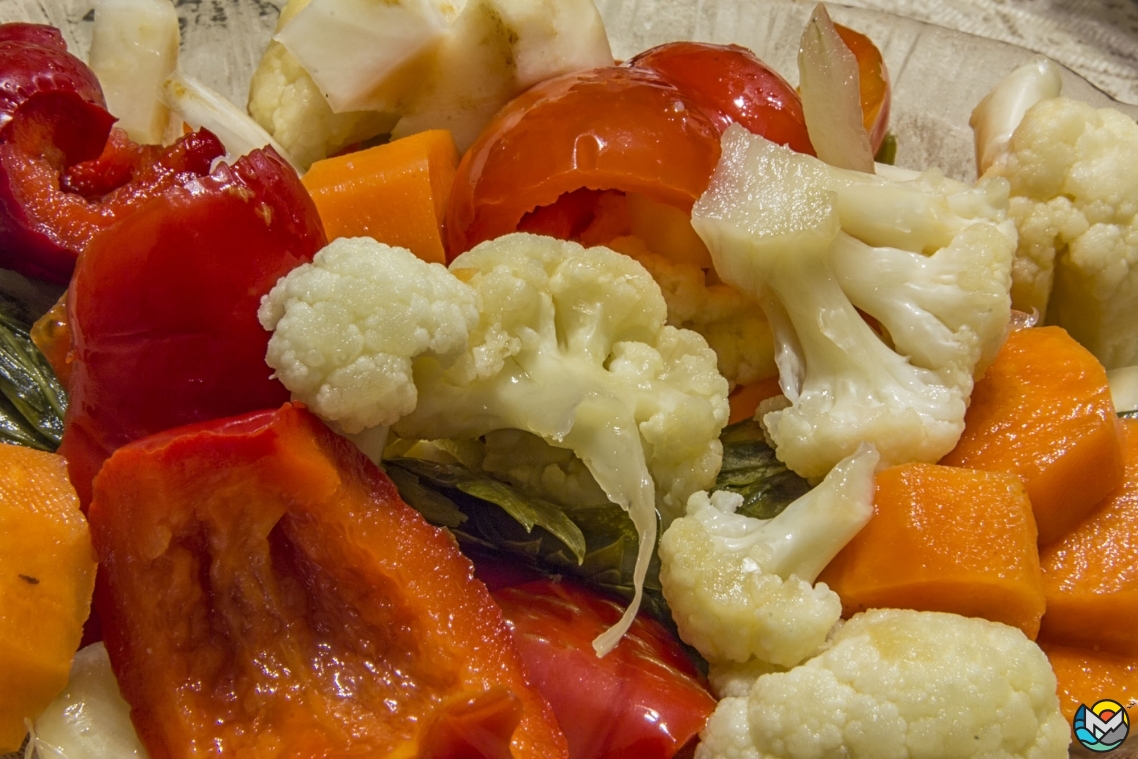 Cabbage salad is very common. Cabbage could be fresh or marinated, with oil and vinegar. In season, leafy greens and tomatoes, seasoned with olive oil and pepper, appear on the tables.
Bell peppers baked in the oven or on the grill, sprinkled with garlic and olive oil, become Pečena paprika salad.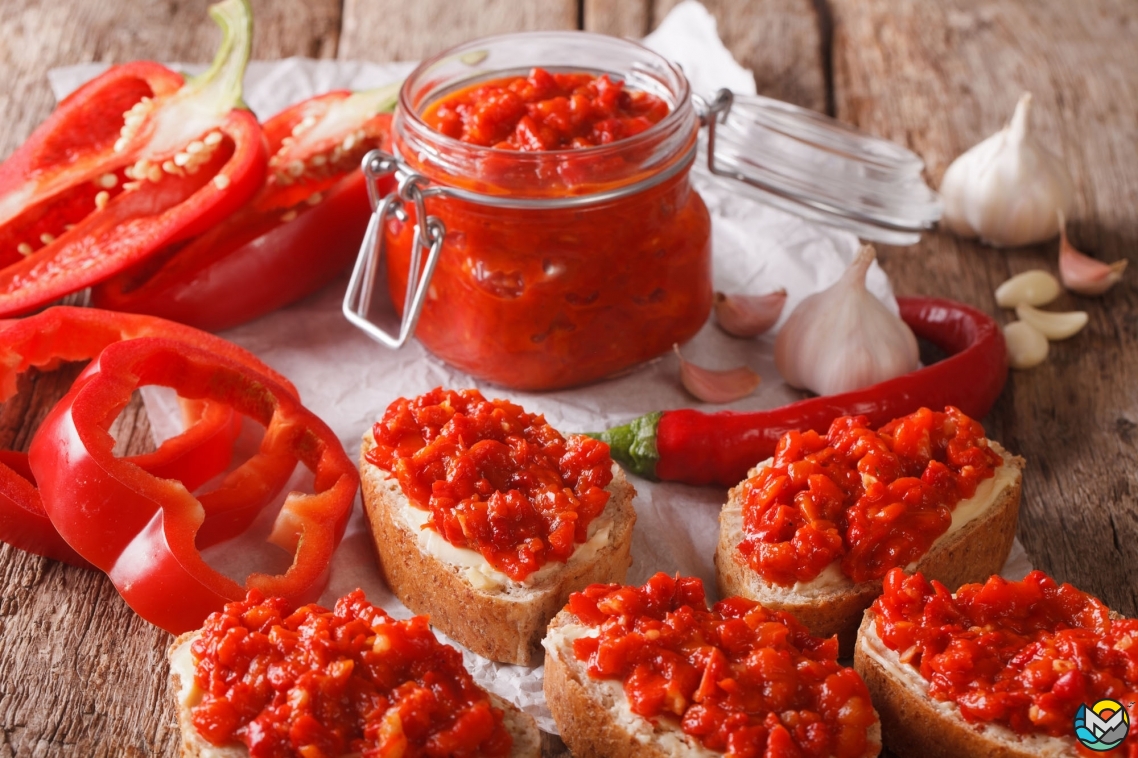 Vegetarians can try homemade cheeses and the unique Kajmak appetizer.
And for vegans, there is ajvar — baked and pureed bell pepper with olive oil and spices. The process of making this simple but delicious appetizer takes a lot of time. It could be mild — blagi ajvar, or, with the addition of hot pepper, hot — ljuti ajvar. Ajvar can be eaten as a spread, as a sauce or as a main meal — with a big spoon right from the jar!
2
Soups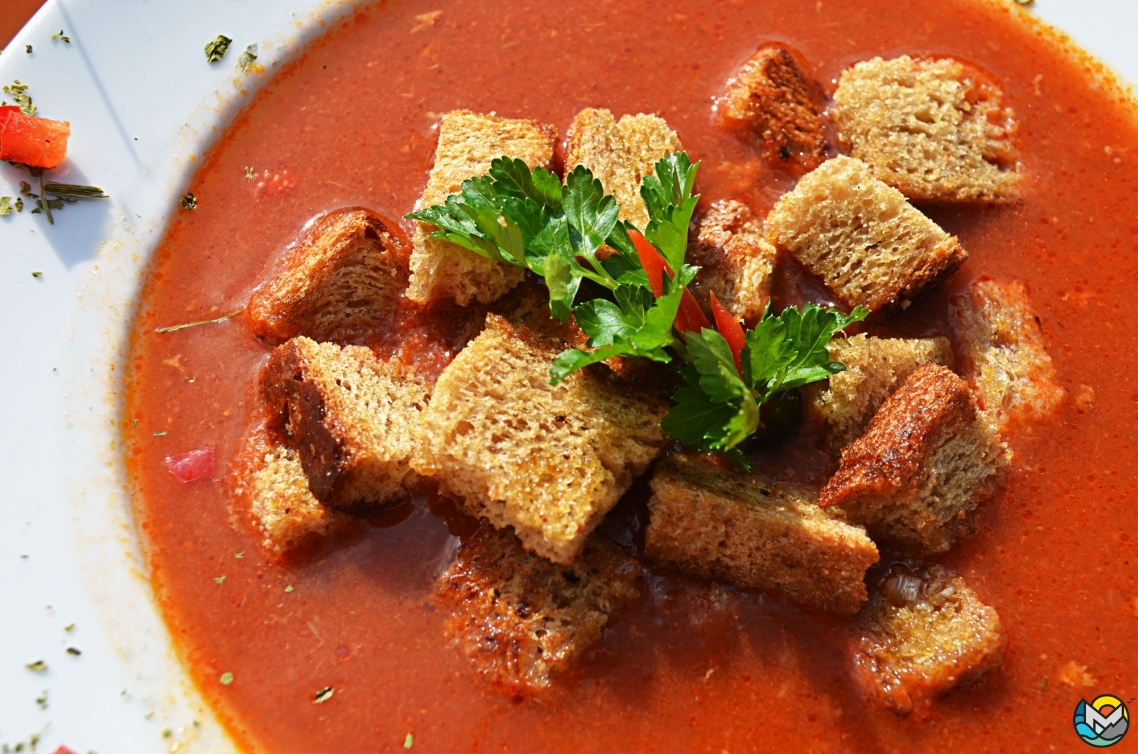 Traditional thick soup, čorba, is often made with fish and seafood (Riblja čorba). Every family, every restaurant has its own recipe. The common ground, perhaps, is good fish stock and flour. Here is one of many options.
Ingredients:
fish (carp, sterlet, bream, catfish, etc.) — 1.5 kilograms;
onions — 1 piece;
large carrots — 1 piece.;
baked pepper — 2 pieces;
tomato — 3 pieces;
flour — 1 tablespoon;
sweet paprika — 1 tablespoon;
hot paprika — 1 teaspoon;
white wine — 200 milliliters;
water — 5 liters;
salt, pepper.
Heat some olive oil in a heavy-bottomed pot over medium-high heat. Add very finely chopped onion and carrot and cook for 10 minutes. Then add chopped peppers and tomatoes, cook for another 10 minutes and season vegetables with ground black pepper and paprika. Stir the flour in a small amount of water until smooth. Pour five liters of water over the vegetable mix, add the flour mix, bring it to a simmer. Add cleaned fish and some hot pepper, if you wish.
Cook the fish until half done, take it from the soup, remove the bones and cut the fish into portions. Return to the pot, add white wine and cook for 30 minutes over low heat. Salt to taste.
Far from traditional čorba, light pureed soups made from seasonal vegetables, sezonski potaž od povrća, are gaining more and more popularity, especially in the newly opened restaurants.
3
The main cold dishes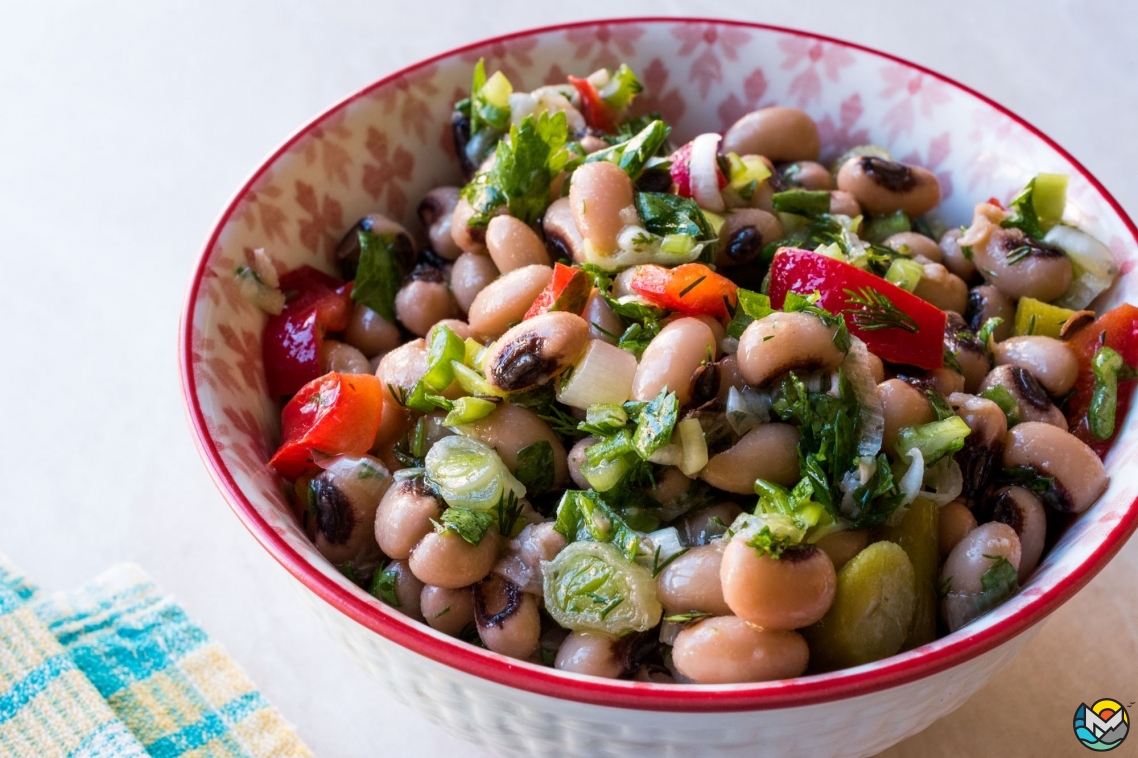 Obrok salata is a common name for main-dish salads. Big Greek salad with feta cheese is fulfilling and suitable for vegetarians, as well as Mediterranean salad, Mediteraneo salata, the pasta salad with spinach, arugula and paprika or Mexican salad, Meksička salata, the main component here is red beans.
4
The seafood dishes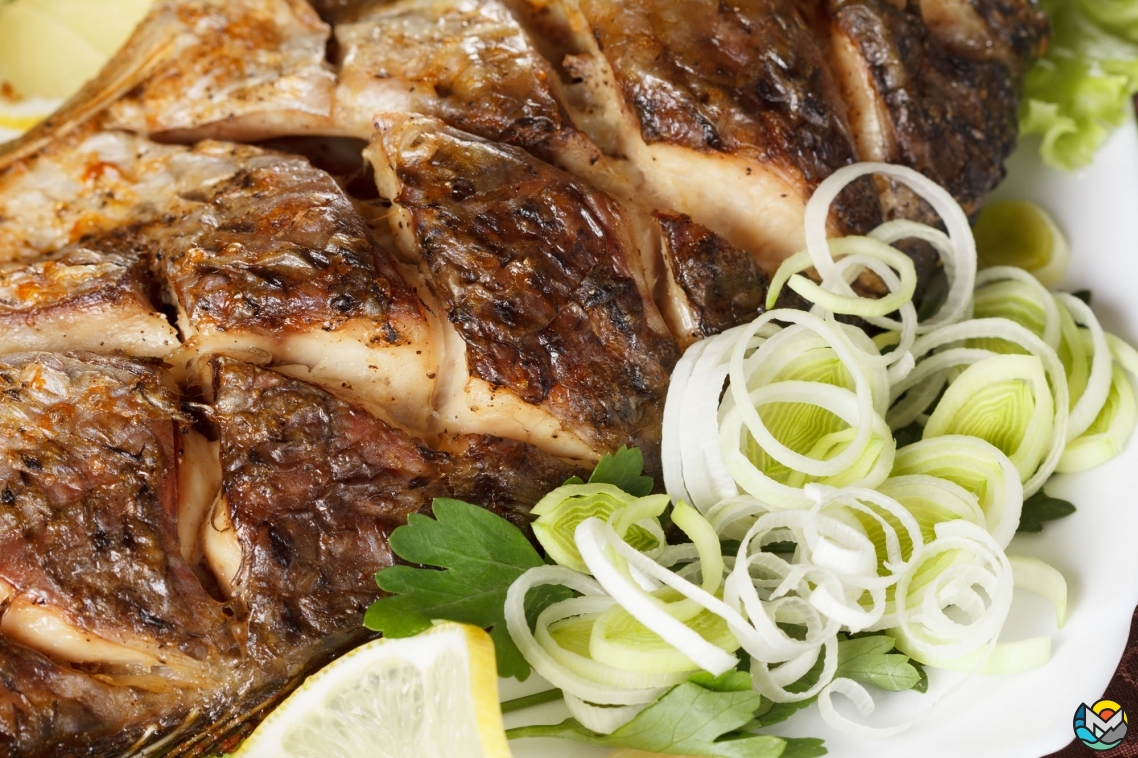 Montenegrins eat fish less often than meat, seafood is quite expensive here despite the fact that it is a country with many rivers, lakes and, of course, the Adriatic. However, there are some unique recipes, for example, carp with prunes, krap sa suvim šljivama.
Ingredients:
Cleaned fish — 1.5 kilograms;
White onions cut into rings — 1 kilogram;
Pitted prunes — 150-300 grams;
Sliced quince — 150-200 grams;
Chopped apples — 100-200 grams;
Large lemon — 1 piece;
Bay leaves — 2 pieces;
Garlic — 3 cloves;
tomato puree;
vegetable oil;
a teaspoon of sugar;
a glass of wine vinegar;
some flour;
water;
parsley or other herbs, salt and pepper to taste.
Salt the carp, roll in flour and cook over medium-high heat. Put the fish in a deep baking dish, sprinkle with ground black pepper, add lemon slices and bay leaf. In a large frying pan cook the onions, add prunes, quince, apple, parsley, vinegar, tomato puree, sugar, paprika, spices. Bring to a simmer, reduce heat, cook a bit more and add the mix to the fish. Bake in the oven for 1.5-2 hours without stirring, but sometimes smash the fruits with a spoon.
Other traditional Montenegrin fish dishes include smoked bleak, dimljene ukljeve, and lake trout in yogurt, jezerska pastrmka u jogurtu.
Hearty meals based on dairy products are very common in Montenegro. For example, cicvara, porridge with cheese, and popara, stale bread soaked in milk and young cheese. Kačamak, a kind of maize porridge, is a good option if it is prepared without animal fat.
5
Desserts and pastries
Pancakes are very popular in the Balkans, here they are called palačinke. Palačinke are usually served with jam, chocolate and cream. Strudel (Štrudlu) came to Montenegro from Austro-Hungarian cuisine, and the East presented a lot of sweets to the Montenegrin table, like baklava and tulumba.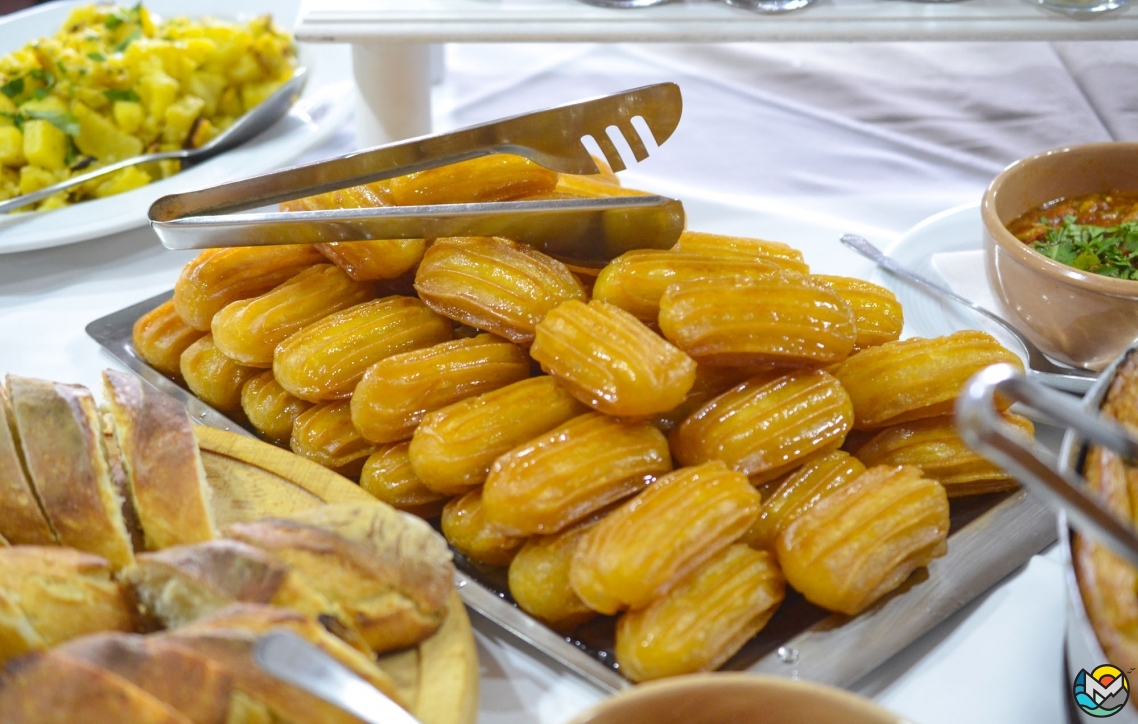 Delicious treat named padobrance is similar to macaroon.
Savory puff pastry pie — burek — is fulfilling and tasty. Those pies are often made with spinach, cabbage or cheese.
Restaurants
There are very few vegetarian restaurants in Montenegro, but you can order a salad or just a side dish, like rice or potato fries. Some restaurants offer interesting vegetarian meals.
Spring salad (Proljećna salata): iceberg, cherry tomatoes, arugula, beets, green onions, carrots, radishes, pumpkin seeds, sunflower oil and honey mustard sauce.
Štrudla Culture club, Podgorica, Bokeška 16.
Vegetarian chimichanga (Vegi čimičanga): cherry tomatoes, canned carrots and onions, arugula, mozzarella, sweet pepper, beans, eggplant, zucchini, fresh cucumber, mustard sauce in fresh homemade dough.
Culture club Tarantino, Podgorica, Bokeška 6.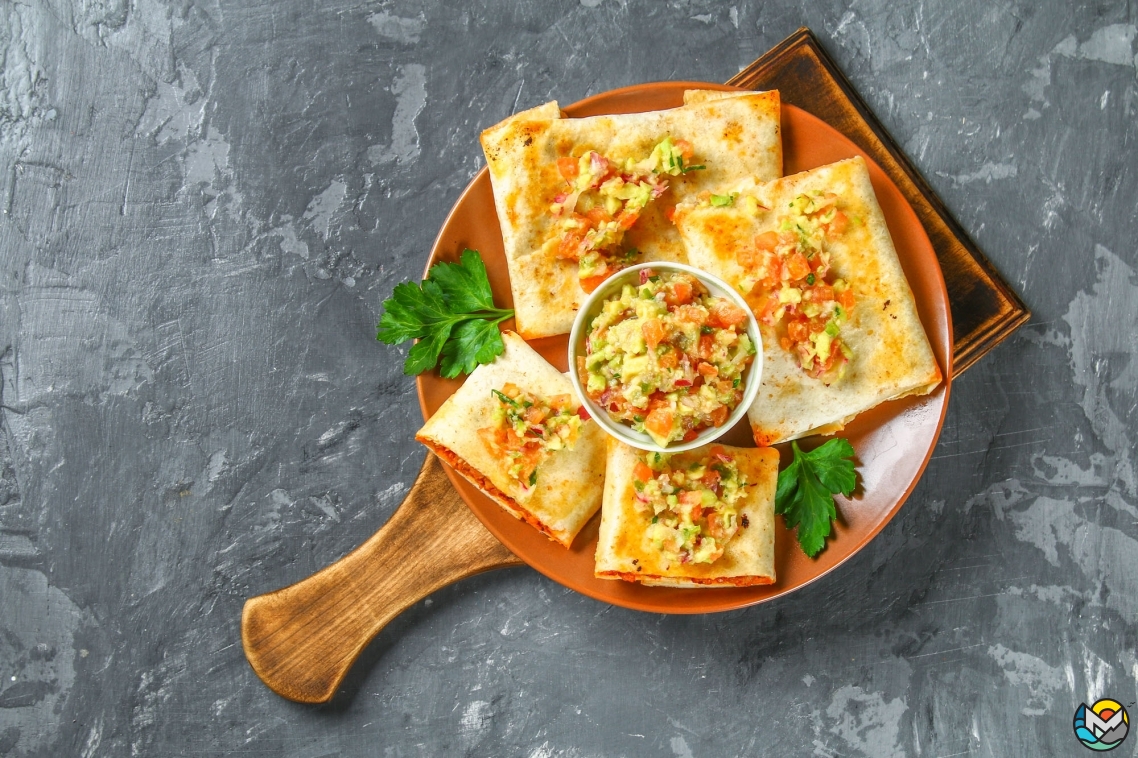 Risotto with wild mushrooms and truffle sauce (Rižoto sa šumskim pečurkama i tartufatom).
Al Posto Giusto, Igalo, Obala Nikole Kovacevica 6.
Mushroom soup (Potaž od pečuraka): champignons, onions, spices, sour cream. Knjazeva Bašta, Bar, Dvorac Kralja Nikole.
Rice with Coconut (Pirinač sa kokosom).
Taste of Asia, Budva, Popa Jola Zeca bb.
Some traditional dishes have vegetarian versions so they could be cooked during the lent. For example, very tasty stuffed peppers (Punjena paprika), sarma (Sarma) and gyuvech (Đuveč).
And, of course, you can always find fresh fruits and vegetables at farm markets and grocery stores.